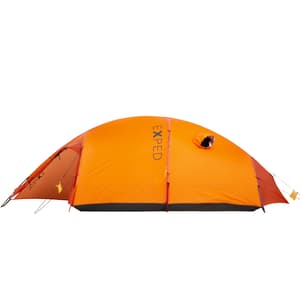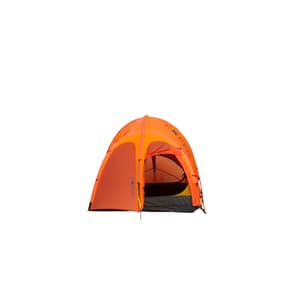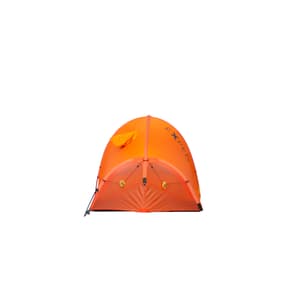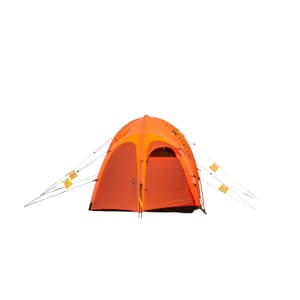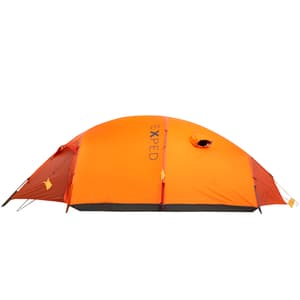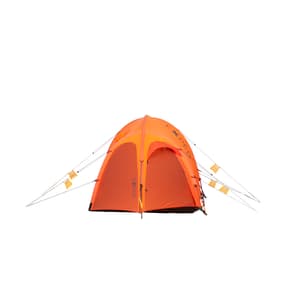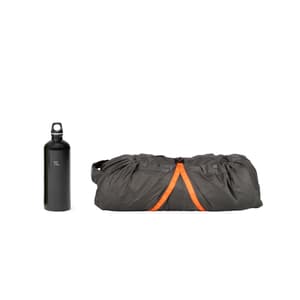 Polaris
Stormproof expedition tent
Polaris
Prod. no. 7640277841710
available in stores in march
Product description
A super-sturdy single wall freestanding expedition tent. The Polaris has
endured countless expeditions making it the tent of choice for tough
endeavors. The generous vestibule for gear storage and snow melting is
exceptional for a single wall tent. Polaris is wide enough to hold 3 sleepers
if necessary and the headroom generous enough for 3 to sit out a storm.
UPDATE
> new 3-layer fabric based on a membrane of
electro spun PU nano fibers
> tonal color scheme
> 5 pre-mounted guylines
> durable black colored mosquito mesh allows
good visibility from within
Intended use
ideal for alpine use, expeditions
Space for
2 M Exped-Sleepingmats
Delivery contents
Rainfly
V-Pegs (16 pieces)
Accessory bag with tent pole(s)
Additional guylines
Spare zipper slider
Repair splint
Repair patches
Spare pole segment
Ski loops
Tent packsack
Fly
VentAir vapor-permeable 3-layer laminate
seam taped
10,000 mm water column
MVTR 30,000 g/m²/24h
Floor
70 D taffeta nylon
10,000 mm water column
Oeko-Tex® 100 certified
PFC free
flame-retardant free
Poles
DAC Featherlite NSL 9 mm TH72M
green anodizing
Oeko-tex certified material
Oeko-Tex® is a testing and Certification system for raw materials and finished products. EXPED does not feature fully tested products. The listed products aren't certified under this standard. Only accordingly specified materials are certified.
oeko-tex.com
PFC-free
Abbreviation for Per- or poly fluorinated chemicals, also known as fluorcarbons. Non degradable and accumulating toxic chemicals used for waterproofing.
Made in China: Jasper Outdoor Products
Founded in 1996, Jasper Outdoor Products is one of the world's leading manufacturers of outdoor products.
more
How can I reduce condensation in the tent?
Although it cannot always be prevented, there are several ways to reduce or eliminate the formation of condensation.
1. reduce or remove as much wet equipment as possible from inside the tent.
2. ventilate the tent when conditions permit.
3. use the appropriate tent floor (footprint) to create a barrier against the cold, wet ground.
4. use a small sponge to wipe off condensation.
Unfortunately, condensation cannot be completely eliminated from a tent design. Cool air must flow into the tent and warm air must be able to escape. If this is not possible, condensation will form. Whenever possible, ventilate the tent, either by opening a vent in the top of the flysheet or leaving the flysheet open all night. The goal is to create a cross flow that ventilates the tent and removes the warm air.
A tent pole is broken - what can I do?
If you are on the road, you can easily repair the tent pole by using the included repair sleeve. On most of our tents you will find this as a spacer by the ventilation hoods. The only exceptions are the HL and UL tents. There you will find the repair sleeve with the other accessories in the pack sack.
To make the repair in the field, slide the sleeve over the broken section of the pole and tape it in place. When you return from your trip, you can bring the pole back for repair.
How can I prevent my tent from starting to mold?
To prevent your tent from getting moldy during storage, there is only 1 remedy. The tent must be 100% dry before you pack and store it. It is best to store the tent loose in a dry, warm environment.
How should I care for my tent after a trip?
When you return from your trip, whether it's a weekend or several weeks, it's a good idea to put your tent up again in a dry place so it can dry out. Be sure to clean the interior, wipe off any dirt that has stuck to the underside, and clean all zippers with a damp, warm rag. If the tent has been used in dirty and/or sandy conditions, you can lightly spray it with water to loosen the dirt from the material, coating, seams and zippers.