We have been working in close partnership with most of our suppliers for over 10 years. This consistency is fundamental to sustainable development in the factories. We always draw up our production planning in collaboration with our suppliers. This enables the factory to operate with minimal overtime and guarantees that production work is not outsourced to a factory we are not familiar with. We visit all factories regularly and maintain an intensive dialogue. By respecting our manufacturers and their cost structures, we believe that we, as a small brand with limited resources, can still make an important contribution.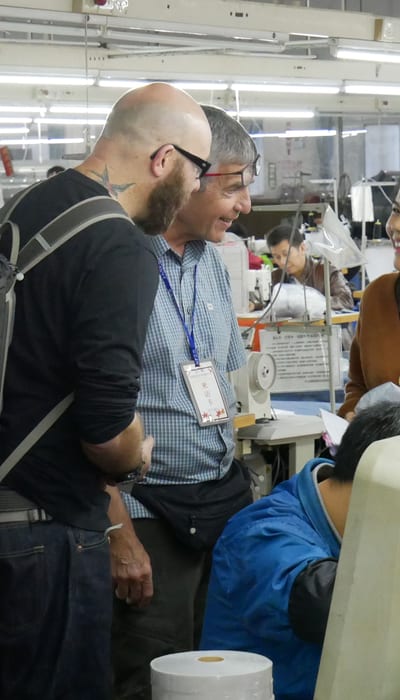 Feng Yi is an established mat manufacturer based in Taichung City in Taiwan and has been producing the well-known mats for EXPED for over 20 years.
The partnership between EXPED and Feng Yi goes back to 1997. The founders Andi and Heidi Brun were looking for a producer of inflatable mats and got to know the Feng Yi bosses. This resulted in a cooperation that has lasted for over 20 years. With its roots in mechanical engineering, Feng Yi turned out to be an ideal partner in the technical field.
Over the years, they have worked together on new ideas and innovative solutions. In order to meet EXPEDs quality demands, special testing equipment and unique machines were developed. After its foundation in 1994, Feng Yi specialised in the production of self-inflating mats and then continued to develop. Today, the factory produces valves, inflatable mats, drybags and other lightweight outdoor accessories. Feng Yi also provided EXPED with significant support in preparing the life cycle assessment of the mats.
In terms of social responsibility, Feng Yi has its own sustainability department. The factory undergoes several verified audits every year and records its emissions as carefully as the employees' working hours and conditions. At Feng Yi, for example, safety standards are always adhered to, the workplaces are bright, the fabric also cares about environmental issue positively and support customer's sustainability issues. These points are also very important to Andi and Heidi. The EXPED founders visit the factory in Taiwan as often as possible to see for themselves on site. This has developed into a solid partnership and almost a friendship.
Facts and Figures
Name: Feng Yi outdoor Leisure Equipment Enterprise Co., Ltd.
Website: fengyi.com.tw
Headquarters: Taichung City, Taiwan
Year of foundation: 1994
Number of employees: 218
Higg Facility Environmental Module: reporting since 2017
Higg Social and Labour Module: reporting since 2020
Report with Transa
Four employees of Transa Backpackig AG visited the production facility in Taiwan together with Andi and Heidi at the beginning of 2020.
Founded in 1996, Jasper Outdoor Products is one of the world's leading manufacturers of outdoor products based in the Far East, specializing in the development and manufacture of premium equipment.
Respected outdoor gear brands from Europe, North America and Asia have had lightweight tents, drybags, bivy sacks, ponchos and weatherproof backpacks manufactured to their specifications and designs by Jasper Outdoor Products for over 25 years.
Jasper Outdoor Products has an intriguing history: Man Yee - the owner and founder of the company - had studied in Canada and, as an outdoor enthusiast, had gotten to know and love Jasper National Park in the Canadian Rocky Mountains during his leisure time back then. So when he founded his company back in 1996, it was easy for him to choose a fitting name for his enterprise, which was to go on to manufacture high-quality outdoor gear: Jasper Outdoor Products.
EXPED has partnered with Jasper Outdoor Products since 2008. Already then, the company based in southern China was the market leader for expedition single-wall tents. This resulted in the idea to launch the first waterproof alpine backpack together with them, as the unique and combined know-how of the waterproof construction of tents and backpack production offered a special opportunity to us. After the successful launch of the weatherproof alpine backpack Mountain Pro, we then steadily expanded the product range. Soon other backpacks followed, as well as numerous tents, drybags, bivy sacks, ponchos, hammocks and travel accessories. Jasper Outdoor Products is one of the few manufacturing companies in the outdoor industry that can process the lightest 7 denier fabrics up to heavy-duty tarpauline fabrics for haul bags under one roof. This expertise and the necessary know-how also require very high skills from all employees, most of whom have worked at Jasper for years and with great enthusiasm. In recent years, Jasper Outdoor Products has made significant investments in high-tech machinery (such as computer-controlled laser cutting machines for cutting textiles and fabrics). The working environment for employees in production and administration is spacious and all workplaces have daylight, which ensures a pleasant working atmosphere and a workforce with a low fluctuation rate.
Facts and Figures
Name: Jasper Outdoor Products
Headquarters: Zhongshan, Guangdong Province, China
No. of Operations: 3 in total : 2 factories in Zhongshan, China; 1 company in Kwun Tong, Hong Kong
Year of foundation: 1995
Number of employees: 800
Main export markets: Europe, North America, Australia, Japan, South Korea, Taiwan
The Korean-owned company Vision Products Corporation has been producing backpacks and bags since 1984 – since 1992 in its own factories in Vietnam.
Vision has made a name for itself as a manufacturer of functional, technical and high-quality backpacks and exports to more than 20 countries worldwide. As our reliable partner for sewn backpacks, their competent employees are handling even the most complex sewing constructions.

Vision started as a joint venture in Vietnam and built its own factories almost 30 years ago. Established in 2017, JSB International in the southern Vietnamese province of Ben Tre is built to the newest standards and has both impressive automated machinery and extensive testing laboratories for quality control.
The many years of experience of the employees is evident in the product development as well as in the production and quality assurance - and last but not least in the impressive list of international customers.
Facts and Figures
Name: Vision Products Corporation
Website: http://www.visionbag.com/
Headquarters: Gyeonggi-do, Korea
Sales and development in Binh Duong, Vietnam;
2 factories in Vietnam: Binh Duong and Ben Tre
Year of foundation: 2500
Number of employees: 2500
Number of machines: 1500
Certificates: WCA, GSV, ISO 9001, ISO 14001
Higg FEM: since 2022, Higg FSLM since 2022
Founded in 1992, Zhejiang Natural Outdoor Goods INC has been dedicated to the development and manufacture of sports and outdoor products for over 30 years.
Surrounded by green nature and spectacular mountains, Tiantai is home to the headquarters of Zhejiang Natural Outdoor Goods INC. The founders and owners are passionate about the outdoors and share this passion with the growing but extremely constant workforce. Me Nature is an important and stable employer in the region.

Nature has been producing welded and waterproof backpacks, bags and drybags for us for over 10 years. Nature offers inhouse PU coating and TPU lamination and welding of this PVC-free tarpaulin material, but mainly specializes in inflatable mats. The long cooperation in the backpack sector recently led to the fact that part of our mat collection is now also manufactured in Tiantai.

Nature has in recent years impressively updated its capacity and expertise in all areas of production and has extensive testing laboratories and manufacturing facilities. Nature works with more than 200 brands in more than 40 countries and regularly passes various certifications and audits.
Facts and Figures
Name: Zhejiang Natural Outdoor Goods INC.
Website: https://en.zjnature.com
Headquarters: Tiantai, Zhejiang, China (since 1992);
2nd factory in Shanghai, China (since 2013);
3rd factory in He Nam, Vietnam (since 2021)
Year of foundation: 1992
Number of employees: 1500
Number of machines: 960
Certificates: ISO 9001, ISO 14001, ISO 45001, BSCI, Audits by Fair Wear Foundation e.a.
Higg FEM since 2020