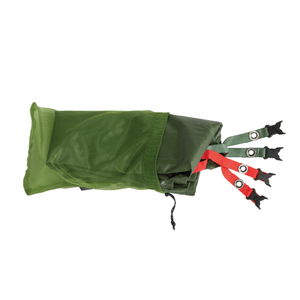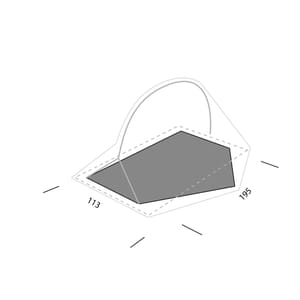 Mira HL Footprint
Additional tent floor protection
protects the tent floor
reduces dirt within the tent
decreases condensation build up
Mira I HL Footprint
Prod. no. 7640445457156
Product description
A footprint is placed under the tent floor and protects it against abrasion and dirt. It has the same shape as the tent floor layout, but is cut slightly smaller preventing rain from seeping between tent floor and footprint. This practical ground sheet is easily attached directly to the tent and pegs by means of elastic straps. In the vestibule area, the footprint protects like a carpet and therefore reduces the amount of dirt reaching inside the canopy. It also helps to reduce condensation.

A footprint can also be used as a tarp against rain, wind and sun.
In terms of size, the Mira HL Footprint can also be used as a footprint or shelter with older versions of the Mira HL (up to and including the year of manufacture 2021). However, since the pole design of the Mira HL has changed fundamentally as of 2022, the ultralight pitching variant (outer tent, poles and footprint) is not possible with older models.
Weight
I: 4.6 oz
II: 6.7 oz
III: 7.4 oz
Material
68 D taffeta polyester
PU coated
seam taped
5000 mm water column