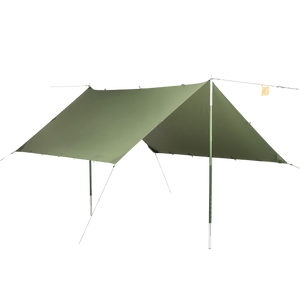 Tarp Extreme
Lightweight weather protection with versatile assembly options
small pack size and weight
versatile
robust and lightweight material
Tarp II extreme
Prod. no. 7640445457125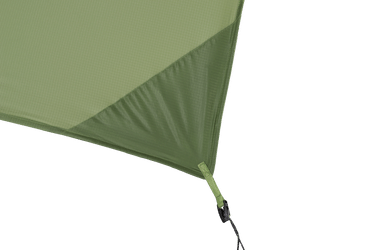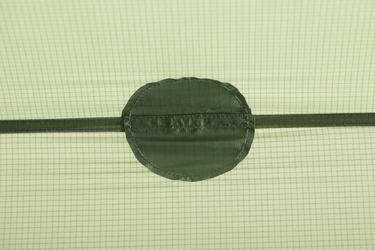 Reinforcement in the middle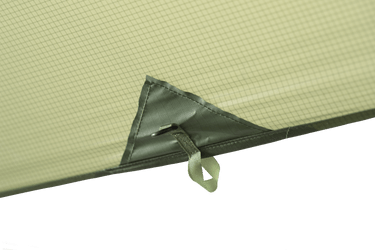 Many loops or as a guy point 
Product description
The Extreme Tarps can be used very versatile. At low weight, this weather protection is still very robust. Due to the square shape and adjustable guy lines, the tarps can be set up in different ways and work as an ideal weather protection in almost any situation.
The 3.5 x 2.9 m (Tarp II Extreme) resp. 3.5 x 3.5 m (Tarp III Extreme) tarp can also be set up as an A-frame shelter which provides a 3.5 x 2.1 m (Tarp II Extreme) resp. 3.5 x 2.5 m (Tarp III Extreme) sheltered sleeping area.

The loops on the sides and corners can be used the Tarp Poles 240 or for guy wires between trees or anchored directly with pegs in the ground.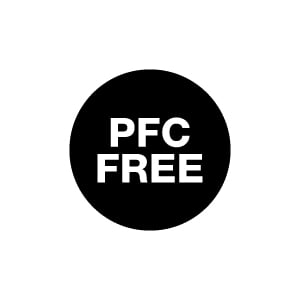 Dimensions
II: 137.8 x 114.2 in
III: 137.8 x 137.8 in
Delivery contents
Tarp
Dyneema guylines
V-Pegs (8 pieces)
Accessory bag
Tarp packsack
Min. Weight
II: 25.7 oz
III: 31.4 oz
Weight
II: 29.3 oz
III: 34.9 oz
Packed Dimensions
II: 13.4 x 5.1 in
III: 13.4 x 5.5 in
Material
40 D ripstop nylon
silicone coated on both sides
Oeko-Tex® 100 certified
PFC free
flame-retardant free
Oeko-tex certified material
Oeko-Tex® is a testing and Certification system for raw materials and finished products. EXPED does not feature fully tested products. The listed products aren't certified under this standard. Only accordingly specified materials are certified.
oeko-tex.com