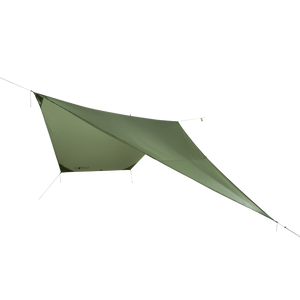 Hammock Trekking Tarp
Reliable weather protection for hammock and equipment
large-area, lightweight weather protection
asymmetrical cut for optimal coverage
no scraps: 100% utilization of the fabric
Hammock Trekking Tarp
Prod. no. 7640445457101
Product description
The Hammock Trekking Tarp is the ideal roof for the hammock. The asymmetrical cut provides optimal protection, also for the equipment.

Five cleverly integrated guy lines create versatile application possibilities. While the side with two guy points is stretched towards the ground and serves as a windbreak, the tapered side offers a view of the surroundings as well as a dry place for the equipment. In really bad weather, this side can be folded over and also guyed to the ground. The 3.6 x 4.4 m tarp can also be set up as an A-frame shelter which provides a 3.6 x 2.1 m sheltered sleeping area.

Sustainability also plays an important role in the production of the Hammock Trekking Tarp. By optimizing the cutting pattern, we achieve almost 100% utilization of the fabric.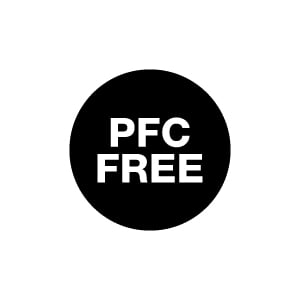 Dimensions
141.7 x 173.2 in
Packed Dimensions
7.5 x 3.5 in
Delivery contents
Tarp
Dyneema guylines
Tarp packsack
Material
15 D ripstop nylon
silicone / PU coated
seam taped
Oeko-Tex® 100 certified
PFC free
flame-retardant free
Oeko-tex certified material
Oeko-Tex® is a testing and Certification system for raw materials and finished products. EXPED does not feature fully tested products. The listed products aren't certified under this standard. Only accordingly specified materials are certified.
oeko-tex.com